June 25th, 2008

Dear Friends of New Village Press,
Happy Summer! We are thrilled to announce the release of our tenth new title—Art and Upheaval: Artists on the World's Frontlines by William Cleveland. This is a rare and moving account of local artists rebuilding the social infrastructure of communities in six parts of the world that have suffered the trauma of civil war or political repression.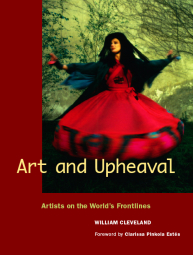 The history captured in Art and Upheaval deepens one's appreciation of community-based art—not only were these artists risking their lives to perform, write, or paint in dangerous political climates, they were surprisingly skilled in healing the most profound social problems. Through poetry, drama scripts, abundant visuals, and masterful narrative, Bill Cleveland captures the lives of maverick artistic groups in Cambodia, Serbia, Northern Ireland, South Africa, Aboriginal Australia, and Watts, Los Angeles. The author spent the better part of a decade intimately documenting these artists in their working environments. The book is graced with a poetic foreword by cantadora and psychoanalyst Dr. Clarissa Pinkola Estés.
We would like to bring to your attention, also, the newest issue of New Village Online. Issue #3 features an insightful article on city and regional arts planning by Carl Grodach from the University of Texas School of Urban and Public Affairs. In it, Grodach proposes useful solutions to the "bifurcated arts planning" that marginalizes community-based arts in favor of prominent cultural institutions. His integrated framework for arts planning recommends creating a "comprehensive inventory and map of arts-based activity" as a first step.
Louise Dunlap, author of Undoing the Silence, has traveled throughout South Africa and the United States offering training workshops on writing for social change. Louise works tirelessly to empower community voices. Among the groups she served this spring were the Neighborhood Partnership Network in New Orleans and Action Aid International in Johannesburg.
The late Karl Linn, author of Building Commons and Community, was posthumously honored by the first Jimmy Jolley Award from the Community Built Association at their national conference this past March in Monterey. The Community Built Association, founded in 1989, provides a supportive network for those facilitating the kind of collaborative community projects Karl pioneered.
Please let us know what is new with you. We like to hear from our readers—post comments to our Commons pages and blog or simply send us a line.
In community,
Lynne
Comments Off

on New Village Press News