October 9th, 2008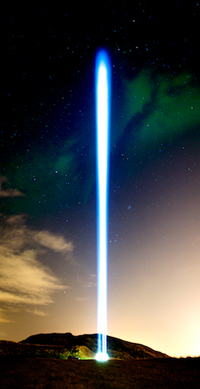 You may say I'm a dreamer, but I'm not the only one.
Yoko Ono is inviting people around the world to join together in wishes for peace as she lights the Imagine Peace Tower today in Reykjavik Iceland honoring John Lennon. The tower is a beam of light powered by local geothermal energy.
Dear Friends,

Please join me not only in remembering John on October 9th but also in spreading the message of peace. This is something that was so important to John – the fact that we could all work together for the positive good of our planet. He would have loved how we are all mobilizing ourselves in thought and in action. It's time for action and the action is peace!
with love, yoko

Yoko Ono
9 Oct 2008
As a young artist, Yoko imagined the tower. In 1967 John invited her to create it, but at that time she did not know how. In the same spirit, let us envision peace, even if we don't yet know the way to build it — through love and clear intention, we will find a way.
Comments Off

on Imagine Peace